Books in the Mas Arai Mystery Series
Read a glossary of terms found in the Mas Arai books, and find information for reading groups, including frequently asked questions about the series and questions for discussion.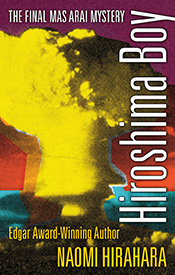 HIROSHIMA BOY
Prospect Park Books trade paperback and ebook, March 2018
Distributed by Consortium
ISBN 978-1-945551-08-6
L.A. gardener Mas Arai returns to Hiroshima to bring his best friend's ashes to a relative on the tiny offshore island of Ino, only to become embroiled in the mysterious death of a teenage boy who was about the same age Mas was when he survived the atomic bomb in 1945. The boy's death affects the elderly, often-curmudgeonly, always-reluctant sleuth, who cannot return home to Los Angeles until he finds a way to see justice served.
"I've always admired Naomi Hirahara's Mas Arai. A brilliant, unique addition to mystery fiction from the very beginning, his character has straddled time, place, and culture, with roots in one of the most terrible acts of violence war has ever inflicted upon humanity. And Mas has prevailed while growing older in a country that does not always value the wisdom of its elders, or those who work with their hands. This may be the last entry in the series (really?), but I am sure readers will come to love Mas for years to come―he is one of a kind. Hiroshima Boy is a wonderful finale to a fine mystery series. Kudos to Naomi Hirahara."
―Jacqueline Winspear, author of the New York Times–bestselling Maisie Dobbs mysteries
"With Hiroshima Boy, Naomi Hirahara offers readers another fine, artfully understated story about a man who believes himself to be average, yet is anything but. Carrying the ashes of his deceased best friend, Mas Arai returns to Hiroshima, where he spent his childhood and was witness to the bomb that devastated the city and its populace. When Mas stumbles onto the body of a murdered boy, what began as a simple mission to keep a recent promise becomes a complex journey in understanding the past. Like a Zen poet, Hirahara creates a quiet surface with a powerful storm beneath. The novel purports to be the last in this Edgar Award–winning series. We can only hope that Naomi Hirahara has a change of heart."
―William Kent Krueger, New York Times–bestselling author of Ordinary Grace and the Cork O'Connor mysteries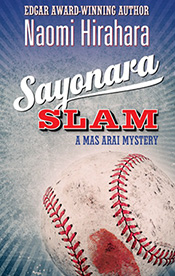 SAYONARA SLAM
Prospect Park Books trade paperback and ebook, May 2016
Distributed by Consortium
ISBN 978-1-938849-73-2
At Dodger Stadium it's Japan vs. Korea in the World Baseball Classic, but before the first pitch is thrown, Mas Arai finds himself in the middle of a murder. Mysteries layer atop mysteries in this sixth in the award-winning series featuring the most unlikely of sleuths, an aging, widowed, not-exactly-communicative gardener from Altadena, California.
Who is that unusual woman throwing knuckleball pitches to warm up the Japanese team? Who sent thugs to threaten Mas and accuse him of treason? And what were in the deleted files on the murdered sportswriter's computer—and did they hold secrets that led to his death?
The more mysteries Mas uncovers, the deeper he gets drawn into a situation that soon grows dangerous—including the danger of losing the affection of the woman he might someday admit he loves.
"Mas Arai is a wholly original sleuth—reluctant, curmudgeonly, and irresistible. In Sayonara Slam, he delves into baseball, World War II, and the complex history between Japan and Korea, all while grappling with that most enduring mystery, love. Hirahara has created a story that's both meaningful and great fun; you'll be cheering until the very last play."
— Nina Revoyr, author of Lost Canyon, Southland, and Wingshooters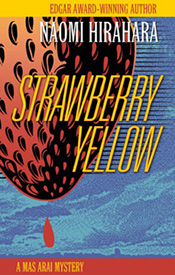 STRAWBERRY YELLOW
Prospect Park Books trade paperback and ebook, February 2013
Distributed by Consortium
ISBN 978-1-938849-02-2
This fifth installment is set in the strawberry fields of Watsonville, California, where young Mas first arrived from Hiroshima in the 1940s. Now a semi-retired gardener who lives in an L.A. suburb, he returns for the funeral of a cousin and quickly gets entangled in the murder of a young woman. Was his cousin murdered, too?
Mas has to figure out what happened, keep himself safe in the face of considerable peril, and uncover the mystery of the Strawberry Yellow blight—and a new strawberry varietal so important that it could be inspiring a murderer.
"Mas' fifth case has both depth and an intricate whodunit, weaving flashbacks of the sleuth's complicated youth with the starker contemporary reality of buried resentments and revenge."
—Kirkus Reviews
"Engaging whodunit."
—Publishers Weekly
"Mas, less an amateur detective than a cranky, accidental one, is what makes the story work. His obdurance, his skill as a listener, and even his broken English are charming in a quirky, uncomplicated way."
—Booklist
"A shrewd sense of character and a formidable narrative engine."
—Chicago Tribune
"A winning series."
—Seattle Times
"A compelling grasp of the Japanese American subculture… absolutely fascinating."
—Asian American Press
Finalist for T. Jefferson Parker Mystery Award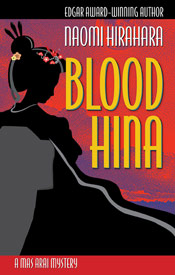 BLOOD HINA
St. Martin's Minotaur hardcover, March 2010
Also available as large print (GALE Cengage)
Prospect Park Books trade paperback and e-book (via Consortium), September 2013
ISBN 978-1-938849-19-0
In this fourth installment of Naomi Hirahara's highly acclaimed Mas Arai mystery series, Mas' best friend Haruo is getting married and Mas has grudgingly agreed to serve as best man. But then an ancient Japanese doll display of Haruo's fiancee goes missing, and the wedding is called off with fingers pointed at Haruo. To clear his friend's name, Mas must first uncover a world of heartbreaking memories, deception, and murder. Read an excerpt!
"Naomi Hirahara has done it again! It's wonderful to see reluctant detective Mas Arai back in action."
—Lisa See, New York Times bestselling author of Snow Flower and the Secret Fan
"Mas Arai is a true original and one of my favorite characters in crime fiction. I love spending time in his world and I'm thrilled that he's back—and at the top of his grumpy game."
—S.J. Rozan, Edgar-winning author of The Shanghai Moon

"Blood Hina is even better than Hirahara's Edgar Award-winning Snakeskin Shamisen."
—Denise Hamilton, author of the Eve Diamond series

"Edgar-winner Hirahara once again provides a sensitive insider's view of the Japanese-American subculture in her fourth Mas Arai mystery."
—Publishers Weekly
A Hot Picks Selection by the Hawaii State Public Library System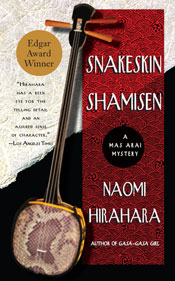 SNAKESKIN SHAMISEN
Bantam Dell/Delta trade paperback, April 2006
ISBN 978-0-385-33961-2
Also available as an e-book and in large print (Wheeler Publishing)
Foreign licenses: Japan (Shogakukan) and Korea (Hwangmae Publishers)
Winner of the 2007 Edgar Allan Poe Award in the category of Best Paperback Original
Few things get curmudgeonly Japanese American gardener Mas Arai more excited than gambling, so when he hears about a pal's half-a-million dollar win—from a novelty slot machine!—he's torn between admiration and derision. Bu the stakes suddenly get higher when the winner is found stabbed to death; only a battered snakeskin shamisen (a traditional Okinawan musical instrument) may hold a clue to the killer's identity. Mas reluctantly agrees to follow the trail left by the shamisen—and soon uncovers a world of secrets and deceptions that stretches from the streets of L.A. to the islands of Okinawa. Read an excerpt!
"Hirahara's complex and compassionate portrait of a contemporary American subculture enhances her mystery, and vice versa."
—Kirkus Reviews
"Hirahara's well-plotted, wholesome whodunit offers a unique look at L.A.'s Japanese-American community, with enough twists and local flavor to keep you guessing till the end."
—Entertainment Weekly
"In an age in which too many books are merely echoes of previous books, Naomi Hirahara has the distinction of writing a mystery series that is unlike any other. As her latest novel, Snakeskin Shamisen, proves, she is truly one of a kind. ... Mas Arai is one of the freshest, most realistic and fascinating characters in the mystery genre. Every book featuring him is a joy to read."
—David J. Montgomery, Chicago Sun-Times
"A shrewd sense of character and a formidable narrative engine."
—Dick Adler, Chicago Tribune
"Hirahara has created in Arai a protagonist who arguably is one of the most unique characters in contemporary mystery fiction. ... A haunting and compelling work."
—Joe Hartlaub, Bookreporter.com
"As with the two previous Mas Arai mysteries, Summer of the Big Bachi and Gasa-Gasa Girl, the offbeat characters are engaging, the humor gentle, the cultural insights many, and the writing briskly skilled."
—Patricia McFall, San Gabriel Valley Newspapers
"The cadence of the book is all music and past rhythm; what will be in store for Mas next? I can't wait."
—Sarah Weinman, Confessions of an Idiosyncratic Mind website
"A winning series."
—Seattle Times
City of Duarte's 2007 One Town, One Book, selection
2007 Anthony Award nominee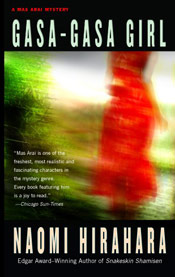 GASA-GASA GIRL
Bantam Dell/Delta trade paperback, April 2005
ISBN 978-0-385-33760-1
Dell mass market paperback, May 2008
ISBN 978-0-440-24155-3
Also available as an e-book and in large print (Wheeler Publishing)
Foreign license: Japan (Shogakukan)
From the time she was a child, Mas Arai's daughter, Mari, was completely gasa-gasa—never sitting still, always on the go, getting into everything. And Mas, busy tending lawns, gambling, and struggling to put his Hiroshima past behind him, never had much time for the family he was trying to support. For years now, his resentful daughter has lived a continent away in New York City, and had a life he knew little about. But an anxious phone call from Mari asking for his help plunges the usually obstinate Mas into a series of startling situations from maneuvering in an unfamiliar city to making nice with his tall, blond son-in-law, Lloyd, to taking care of a sickly child... to finding a dead body in the rubble of a former koi pond.
The victim was Kazzy Ouchi, a half-Japanese millionaire who also happened to be Mari and Lloyd's boss. Stumbling onto the scene, Mas sees more amiss than the detectives do, but his instinct is to keep his mouth shut. Only when the case threatens his daughter and her family does Mas take action: patiently, stubbornly tugging at the end of a tangled, dangerous mystery. And as he does, he begins to lay bare a tragic secret on the dark side of an American dream...
Both a riveting mystery and a powerful story of passionate relationships across a cultural divide, Gasa-Gasa Girl is a tale told with heart and wisdom: an unforgettable portrait of fathers, daughters, and other strangers. Read an excerpt!
"A compelling grasp of the Japanese American subculture... absolutely fascinating."
—Asian American Press
April 2005: #14 on Southern California Booksellers Association's bestseller list
May 2005: #9 on Southern California Booksellers Association's bestseller list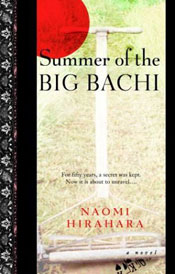 SUMMER OF THE BIG BACHI
Bantam Dell/Delta trade paperback, April 2004
ISBN 978-0-385-33759-5
Dell mass market paperback, January 2008
ISBN 978-0-440-24154-6
Also available as an e-book and large print (Wheeler Publishing)
Foreign license: France (Editions de l'Aube)
In the foothills of Pasadena, Mas Arai is just another Japanese American gardener, his lawnmower blades clean and sharp, his truck carefully tuned. But while Mas keeps lawns neatly trimmed, his own life has gone to seed. His wife is dead. And his livelihood is falling into the hands of the men he once hired by the day. For Mas, a life of sin is catching up to him. And now bachi—the spirit of retribution—is knocking on his door.
It begins when a stranger comes around, asking questions about a nurseryman who once lived in Hiroshima, a man known as Joji Haneda. By the end of the summer, Joji will be dead and Mas's own life will be in danger. For while Mas was building a life on the edge of the American dream, he has kept powerful secrets: about three friends long ago, about two lives entwined, and about what really happened when the bomb fell on Hiroshima in August 1945.
A spellbinding mystery played out from war-torn Japan to the rich tidewaters of L.A.'s multicultural landscape, this stunning debut novel weaves a powerful tale of family, loyalty, and the price of both survival and forgiveness. Read an excerpt!
"[A] poetic, affective and artful debut novel."
—Tom Nolan, Orange County Metro Magazine
2005 Macavity Award nominee
Publishers Weekly Best Books of 2004 Pick
Chicago Tribune Ten Best Mysteries and Thrillers of 2004
© Naomi Hirahara.