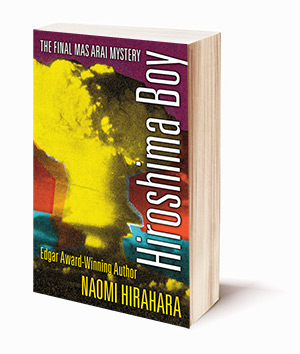 Available Now:
Amateur sleuth Mas Arai is back in Hiroshima Boy―nominated for the Edgar Award!
The Final Mas Arai Mystery
L.A. gardener Mas Arai returns to Hiroshima to bring his best friend's ashes to a relative on the tiny offshore island of Ino, only to become embroiled in the mysterious death of a teenage boy who was about the same age Mas was when he survived the atomic bomb in 1945. The boy's death affects the elderly, often-curmudgeonly, always-reluctant sleuth, who cannot return home to Los Angeles until he finds a way to see justice served.
Buy it: Vroman's | Book Carnival | Mysterious Galaxy | Heritage Source | Amazon | IndieBound | Barnes & Noble

Advance Praise for Hiroshima Boy:
"I've always admired Naomi Hirahara's Mas Arai. A brilliant, unique addition to mystery fiction from the very beginning, his character has straddled time, place, and culture, with roots in one of the most terrible acts of violence war has ever inflicted upon humanity. And Mas has prevailed while growing older in a country that does not always value the wisdom of its elders, or those who work with their hands. This may be the last entry in the series (really?), but I am sure readers will come to love Mas for years to come―he is one of a kind. Hiroshima Boy is a wonderful finale to a fine mystery series. Kudos to Naomi Hirahara."
―Jacqueline Winspear, author of the New York Times–bestselling Maisie Dobbs mysteries
"With Hiroshima Boy, Naomi Hirahara offers readers another fine, artfully understated story about a man who believes himself to be average, yet is anything but. Carrying the ashes of his deceased best friend, Mas Arai returns to Hiroshima, where he spent his childhood and was witness to the bomb that devastated the city and its populace. When Mas stumbles onto the body of a murdered boy, what began as a simple mission to keep a recent promise becomes a complex journey in understanding the past. Like a Zen poet, Hirahara creates a quiet surface with a powerful storm beneath. The novel purports to be the last in this Edgar Award–winning series. We can only hope that Naomi Hirahara has a change of heart."
―William Kent Krueger, New York Times–bestselling author of Ordinary Grace and the Cork O'Connor mysteries
© Naomi Hirahara. Web site by interbridge.
Connect With Naomi
Naomi Hirahara Books


Promote Your Page Too