Books in the Officer Ellie Rush Mystery Series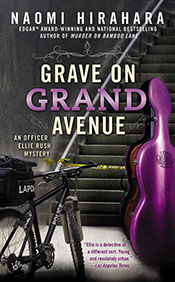 GRAVE ON GRAND AVENUE
Berkley Prime Crime paperback and ebook, April 2015
ISBN 978-0-425264-96-6
LAPD bicycle cop—and aspiring homicide detective—Ellie Rush is back on patrol in the next installment from the award-winning author of Murder on Bamboo Lane.
While patrolling one of LA's premier concert halls, Ellie stops for a chat with a gardener—and is shocked to discover him minutes later, clinging to life at the bottom of a staircase. The claim is that he was knocked down while attempting to steal a multi-million dollar cello, but Ellie has trouble believing that.
Ellie has issues of her own to deal with—like the curious theft of her car—but after the gardener takes his last breath and the cellist mysteriously disappears, it's clear that she must act quickly before someone else falls silent...
"Delightfully original."
—Publishers Weekly
"I absolutely adore this series, and the second entry continues with strong writing and fully-developed characters... Ellie and the challenges she faces as a new police officer... will have readers yearning for more."
—Cynthia Chow, Kings River Life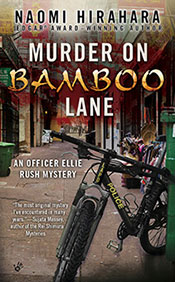 MURDER ON BAMBOO LANE
Berkley Prime Crime paperback and ebook, April 2014
ISBN 978-0-42526495-9
Winner of the T. Jefferson Parker Mystery Award
Bike cop Ellie Rush dreams of becoming a homicide detective, but it's still a shock when the first dead body she encounters on the job is that of a former college classmate.
At the behest of her Aunt Cheryl, the highest-ranking Asian-American officer in the LAPD (a source of pride for Ellie's grandmother, but annoyance to her mom), Ellie becomes tangled in the investigation of the coed's murder—with equal parts help and hindrance from her nosy best friend, her over-involved ex-boyfriend, a smoldering detective, and seemingly everyone else in her extended family… only to uncover secrets that a killer may go to any lengths to ensure stay hidden.
"Readers will want to see more of Ellie, who provides a fresh perspective on L.A.'s rich ethnic mix."
—Publishers Weekly
"Ellie is a detective of a different sort. Young and resolutely urban, she represents Los Angeles as it is, rather than as it was."
—Los Angeles Times
"The most original mystery I've encountered in many years."
—Sujata Massey, author of the Rei Shimura mysteries
"One of the warmest, most realistic characters to hit crime fiction in a long time."
—Lee Goldberg, New York Times bestselling author
"A great series opener... Hirahara paints a mesmerizing portrait of the Los Angeles she knows so well."
—Henry Chang, author of the Jack Yu mysteries
"Fast paced... Adventurous."
—Steph Cha
"Delivers seamless writing, interesting characters, the right touch of romance, social commentary... the list goes on."
—Sheila Connolly, New York Times bestselling author
"Hirahara delivers the goods in this first of what hopes will be many mysteries involving bicycle cop Ellie Rush."
—Gary Phillips, author of the Ivan Monk mysteries
"From the first page, Ellie Rush and her world seemed real to me and I was glad for every moment I spent there."
—S.J. Rozan, author of the Lydia Chin and Bill Smith mysteries
"Ellie Rush is a wonderful new protagonist, the plot is gripping and the book is a winner."
—Denise Hamilton, editor of the Los Angeles Noir anthology
"I love this book!"
—Timothy Hallinan, Edgar-nominated author
© Naomi Hirahara.