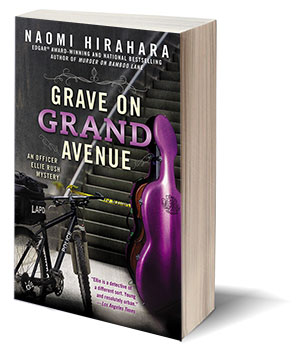 Now Available:
GRAVE ON GRAND AVENUE
LAPD bicycle cop—and aspiring homicide detective—Ellie Rush is back on patrol in the next installment from the award-winning author of Murder on Bamboo Lane.
While patrolling one of LA's premier concert halls, Ellie stops for a chat with a gardener—and is shocked to discover him minutes later, clinging to life at the bottom of a staircase. The claim is that he was knocked down while attempting to steal a multi-million dollar cello, but Ellie has trouble believing that.
Ellie has issues of her own to deal with—like the curious theft of her car—but after the gardener takes his last breath and the cellist mysteriously disappears, it's clear that she must act quickly before someone else falls silent...
Buy it now! Amazon | IndieBound | Barnes & Noble | iTunes Bookstore
or any of the bookstores Naomi will be visiting in April

People are talking...
"Readers will want to see more of Ellie, who provides a fresh perspective on L.A.'s rich ethnic mix."
—Publishers Weekly
"Ellie is a detective of a different sort. Young and resolutely urban, she represents Los Angeles as it is, rather than as it was."
—Los Angeles Times
"Ellie Rush is a wonderful new protagonist."
—Denise Hamilton, editor of the Los Angeles Noir anthology
"One of the warmest, most realistic characters to hit crime fiction in a long time."
—Lee Goldberg, New York Times bestselling author
"From the first page, Ellie Rush and her world seemed real to me and I was glad for every moment I spent there."
—S.J. Rozan, author of the Lydia Chin and Bill Smith mysteries
© Naomi Hirahara. Web site by interbridge.
Connect With Naomi
Naomi Hirahara Books


Promote Your Page Too